LATEST NEWS
For the latest news, follow us on our social media channels: Facebook, Instagram, Twitter.
LOS LOBOS 45th ANNIVERSARY SHOW LIVE WEBCAST
SAMMY HAGAR ALBUM ANNIVERSARIES: VAN HALEN 5150
ROGER MCNAMEE IN CONVERSATION WITH ELIZABETH DWOSKIN (Washington Post's Silcon Valley Correspondent) at Book Passage
SHOW REVIEW: S.o.S - Sweetwater Music Hall
EG CONFERENCE TEXT TUMBLER VISUALIZER
SAMMY HAGAR & THE CIRCLE "TRUST FUND BABY" LYRIC VIDEO
TEDxMeritAcademy 2018
JOE SATRIANI: G4 EXPERIENCE 2019
TOWER OF POWER'S 50TH ANNIVERSARY CONCERTS CAPTURED IN 4K
ACOUSTIC-4-A-CURE: "DOCK OF THE BAY" ALL-STAR JAM
LIVE STREAMING ALL DAY FOR 50/50 DAY
JOE SATRIANI: SUPERNOVA REMIX - THE FREE EP
JOE SATRIANI: G4 EXPERIENCE 2017
("Surfing With The Alien" 30th Anniversary)
THOMAS DOLBY - THE SPEED OF SOUND LIVE STREAMING EVENT
HARDLY STRICTLY BLUEGRASS 16
SAMMY HAGAR'S BEACH BAR RUM - COCKTAIL "HOW TO" VIDEOS
JOE SATRIANI: G4 EXPERIENCE 2016
ACOUSTIC 4 A CURE #3
SAMMY HAGAR, JAMES HETFIELD, MELISSA ETHERIDGE, TOMMY LEE, JOHN MAYER, PAT MONAHAN, JOE SATRIANI & MORE
CHICKENFOOT 2016 - LIVE IN TAHOE
EG CONFERENCE 2016
HARDLY STRICTLY BLUEGRASS 15
NEW SAMMY'S BEACH BAR RUM WEB SITE LAUNCHES (W/ NEW VIDEO)
JOE SATRIANI SHOCKWAVE SUPERNOVA BEHIND THE ALBUM/SONG VIDEO SERIES
SAMMY HAGAR NEW PROJECTS - SAMMY & THE CIRCLE, "ARE WE HAVING ANY FUN YET?" COOKING & PARTYING HANDBOOK, "TOP ROCK COUNTDOWN" RADIO SHOW + MORE
PAT BENATAR & NEIL GIRALDO SONG STORIES CONTEST SERIES
COLIN HAY LIVE WEB SERIES
PAT BENATAR & NEIL GIRALDO - 35th ANNIVERSARY TOUR 2-CD/DVD RELEASE
TEDxSantaCruz - Radical Collaboration
SAMMY HAGAR & THE CIRCLE - AT YOUR SERVICE
DOOBIE DECIBEL SYSTEM WEEKLY STUDIO VIDEO SERIES
SAMMY HAGAR & VIC JOHNSON - BREWING UP LITE ROAST WEB SERIES
SAMMY HAGAR & THE CIRCLE (ANTHONY/JOHNSON/BONHAM) - BELATED BIRTHDAY BASH IN VEGAS OCT 18, 2014
SAMMY HAGAR with VIC JOHNSON - "LITE ROAST"
HARDLY STRICTLY BLUEGRASS 14
ODC/DANCE PRESENTS ZOË KEATING BENEFIT, LIVE ON 2NDLINE
HARDLY STRICTLY BLUEGRASS VIDEO ARCHIVES AT CENTER OF NEW "HARDLY STRICTLY WARREN" MUSEUM EXHIBIT
COLIN HAY 'LIVE AT LARGO' LIVE MUSIC VIDEO
featuring NEW SONGS
EG 8
SAMMY HAGAR 'PERSONAL JESUS' MUSIC VIDEO
featuring NEAL SCHON, MICHAEL ANTHONY & CHAD SMITH
TEDXSANTACRUZ'S THIRD FULL-DAY EVENT ACTIVATES AUDIENCE
SAMMY HAGAR 'KNOCKDOWN DRAGOUT' MUSIC VIDEO
featuring KID ROCK & JOE SATRIANI
CONVERSE REPRESENT SF - 5 NIGHTS OF MUSIC AT SLIM'S
MOUNT TAM JAM
WATSONVILLE YOUTH TAKE STAGE AT TEDxYouth@Watsonville
SAMMY'S OTHER HSAS (HAGAR/SCHON/ANTHONY/SMITH) IN STUDIO
JOE SATRIANI REVEALS THE UNSTOPPABLE MOMENTUM BEHIND HIS ARTISTIC QUEST (EPK Video)
MT. TAM JAM FESTIVAL
JOE SATRIANI - "A DOOR INTO SUMMER" (OFFICIAL MUSIC VIDEO)
SIMON CORONEL, PHILIP SHEPPARD & CHARLES YANG IN


"CARDS & STRINGS"
EG7 AFTER HOURS
GEARTUNES PRESENTS "THE ULTIMATE SPEAKER DEMO"
4-DAY LIVE WEBCAST
LOS LOBOS LIVE + FAN QUESTIONS @ MOE'S ALLEY 3/9/13
TEDxSantaCruz's TED2013 LIVECAST
KORG/VOX/BLACKSTAR/HK/LAG NAMM2013 VIDEO COVERAGE
SAMMY HAGAR'S SEARCH FOR THE PERFECT RUM COCKTAIL - EPISODE #2
CLASSIC LIVE LOS LOBOS WEEKLY FEATURE
SAMMY HAGAR 2012 MIDDLE MARKET SUMMIT INTERVIEW/PERFORMANCE (Part 1)
WARREN HELLMAN MUSEUM OPEN TO THE PUBLIC WEDNESDAYS 11AM - 3PM
EVERY BODY EATS - A DELICIOUS CONVERSATION WITH MICHAEL POLLAN (w/ Jim Cochran, Randall Grahm, Wallace J. Nichols, Darrie Ganzhorn, Jamie Smith, John Robbins)
NEW CHICKENFOOT VIDEO "SOMETHING GOING WRONG" ROLLINGSTONE.COM PREMIERE
SAMMY HAGAR'S 22nd ANNUAL BIRTHDAY BASH IN CABO
HARDLY STRICTLY BLUEGRASS 2012: VIDEO ARCHIVES FROM ARROW STAGE
LITTLE KIDS ROCK 10th ANNIVERSARY CELEB EVENT w/ SPECIAL GUESTS SAMMY HAGAR, MATT SORUM, TABOO OF BLACK EYED PEAS AND MORE!
HARDLY STRICTLY BLUEGRASS 12 DAY-BY-DAY LINEUP REVEALED
TEDXSANTACRUZ'S SECOND FULL-DAY EVENT, "OPEN" IGNITES AUDIENCE
JOIN SAMMY HAGAR AS HE SEARCHES FOR THE BEST RUM COCKTAIL!
ROCK AND ROLL HALL OF FAME ANNOUNCES ACQUISITION OF DIGITAL LOGS OF MOONALICE'S "IT'S 4:20 SOMEWHERE" FOR THE LIBRARY AND ARCHIVES
LITTLE KIDS ROCK 10TH ANNIVERSARY CELEBRATION EVENT w/ SPECIAL GUESTS SAMMY HAGAR, JOE SATRIANI, TABOO OF BLACK EYED PEAS and more!
LOS LOBOS CELEBRATES 20th ANNIVERSARY OF THEIR WATERSHED ALBUM "KIKO"
HARDLY STRICTLY BLUEGRASS 12 COMING THIS OCTOBER
G3 TOUR KICKS OFF EUROPE TOUR IN HOLLAND
IUMA RETURNS, THANKS TO INTERNET ARCHIVE
CHICKENFOOT MINI-DOC ON OPENING NIGHT OF "DIFFERENT DEVIL 2012" TOUR
JOE SATRIANI'S "SATCHURATED" DVD RELEASED & CHARTS AT #3
MOONALICE SINGLE IS FIRST TO GO MULTI-PLATINUM FROM A BAND'S OWN SERVERS
TEDxSantaCruzChange EVENT WITH LOCAL SPEAKERS CARMEL JUD AND PETER LAUGHARN
PRESIDENT OF THE STATE OF ISRAEL SHIMON PERES WEBCAST
G. LOVE VISITS SAN FRANCISCO "LITTLE KIDS ROCK" CLASSROOM
WARREN HELLMAN CELEBRATION CONCERT FEATURING EMMYLOU HARRIS, ROBERT EARL KEEN, GILLIAN WELCH, BOZ SCAGGS AND OTHERS STREAMED WORLDWIDE
GOOGLE+ HANGOUTS ON AIR W/ CHICKENFOOT (JOE SATRIANI, MICHAEL ANTHONY, SAMMY HAGAR, & KENNY ARONOFF)
F. WARREN HELLMAN, BELOVED FATHER, HUSBAND, BROTHER; PRIVATE EQUITY PIONEER; FOUNDER OF SAN FRANCISCO'S HARDLY STRICTLY BLUEGRASS FESTIVAL (1934 - 2011)
SAMMY HAGAR'S 21ST CABO BIRTHDAY BASH (30 MINUTE MINI-DOCUMENTARY)
BEHIND THE FOOT: THE TRUTH BEHIND CHICKENFOOT II
NEW WEB SITE SLIMSPRESENTS.COM FOR SLIM'S & GREAT AMERICAN MUSIC HALL
CHICKENFOOT UNVEIL POWERFUL VIDEO FOR "THREE AND A HALF LETTERS (I NEED A JOB)"
CHICKENFOOT PERFORMS LIVE WEBCAST FROM TRI STUDIOS TO CELEBRATE LAUNCH OF NEW ALBUM, CHICKENFOOT III
CHICKENFOOT "III" VIDEO PODCAST SERIES
LITTLE KIDS ROCK & JOSHUA RADIN ON THE ROAD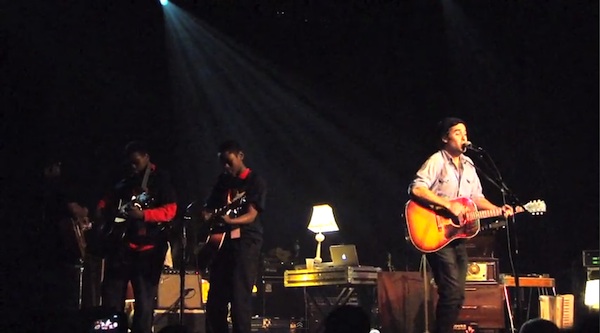 May 8, 2011
Check out this look into the work Little Kids Rock is doing with supporting artists like Joshua Radin. Josh took time out of his touring schedule to visit a handful of classes across the country, and even brought the kids up on stage with him to since his hit song "Brand New Day" with him! We here at Chime are stoked to able to support such an organization and hope you enjoy (and share!) this video.
WEBBY AWARD NOMINATIONS FOR TOM PETTY & U2 SITES
Apr 12, 2011
Two LiveNation/PROD/chime sites are up for Webby Awards-- Tom Petty and U2. Voting for the people's voice portion begins today. Vote at http://webby.aol.com/ and look at all of the nominees here. Big props and cred to Robin Sloan Bechtel, producer extroidinaire and Adria Petty (Tom Petty site) and Django Bayless and Tim Honan from LiveNation (both).
WELCOME, TOAD THE WET SPROCKET
Mar 31, 2011
Wayback machine alert! I remember back in 1994 in the early days of IUMA going with our advisor Michael Tiemann (then of Cygnus, later Redhat) to have dinner with Glenn Phillip's brother and talk about the music biz and see his home studio. My band at the time was covering Toad songs and we were young enough to still be impressed by anyone remotely connected to bands we liked. It was a great evening (great homemade teriyaki chicken, as i recall). I bumped into Glenn here and there over the next decade or so and was happy when they reunited as Toad a while back. So this is a roundabout way to say it's a pleasure to have Toad the Wet Sprocket join the Chime family at last. Nothing fancy, just helping out with hosting, but I imagine it won't be long until we do something more involved!
Toad the Wet Sprocket - Quality music on and off since 1986 www.toadthewetsprocket.com
GEORGE HARRISON - CONCERT FOR GEORGE
Feb 22, 2011
Come join us at georgeharrison.com for a cool free concert stream this Fri celebrating George's birthday! And of course also check out the brand new store we launched, which features a very cool Topspin/Drupal integration with two separate stores (UK and US/Rest of world) plus related items.
CHICKENFOOT IN THE STUDIO
Feb 14, 2011
We had a great time with Mike, Sammy, Joe, and Chad in the studio the other day documenting a very cool thing for the new album packaging (sorry, can't talk about it yet) but while we were there we also shot this video update for the fans. Take a moment to check in with the guys as they talk about recording, burgers, Ric Flair and sing some Little Richard.
SAMMY HAGAR - THE RED ROCKER GIVES BACK
Jan 31, 2011
After forty years, Sammy Hagar and his Redheads are still just getting started. Here's a brief look at some of the charity work that is near and dear to his heart. Edited by Jon Luini and Arthur Rosato with raw footage from all over the place, some shot by Chris Sentovich, some from news reports and some excerpted out of early cuts of "Go There Once, Be There Twice" upcoming DVD.
AL HIRSCHFELD INSTALLATION AT NEW YORK PUBLIC LIBRARY @ LINCOLN CENTER
Jan 25, 2011
Once in a while we are fortunate enough to work with people outside of the music space that just bowl us over. The Al Hirschfeld Foundation is one such example and we headed to New York and had a great time at this fine shindig unveiling an amazing Hirschfeld installation. So much talent and history in the room! David Leopold and everyone did a wonderful job putting it all together, Louise Hirschfeld Cullman shared some kind words about the Hirschfeld web site we've been working on and Eli Wallach was a particularly entertaining man to meet!
KORG KRONOS MUSIC WORKSTATION PRODUCT VIDEO
Jan 13, 2011
Another KORG Product video-- for the groundbreaking new workstation KRONOS, announced here at NAMM this morning at 10am. The usual crack Chime team on this one- Directed/Edited by Jon Luini, camera by Kurt Nangle, & Jarid S. Johnson, production task master Kiki Kurvin, PA Charley Weston, fantastic animations by Will Claflin at PROD & of course the amazing crew at Korg USA (especially Mike Bradley & Rich Formidoni).
For an archive of older news, please visit our Facebook page.